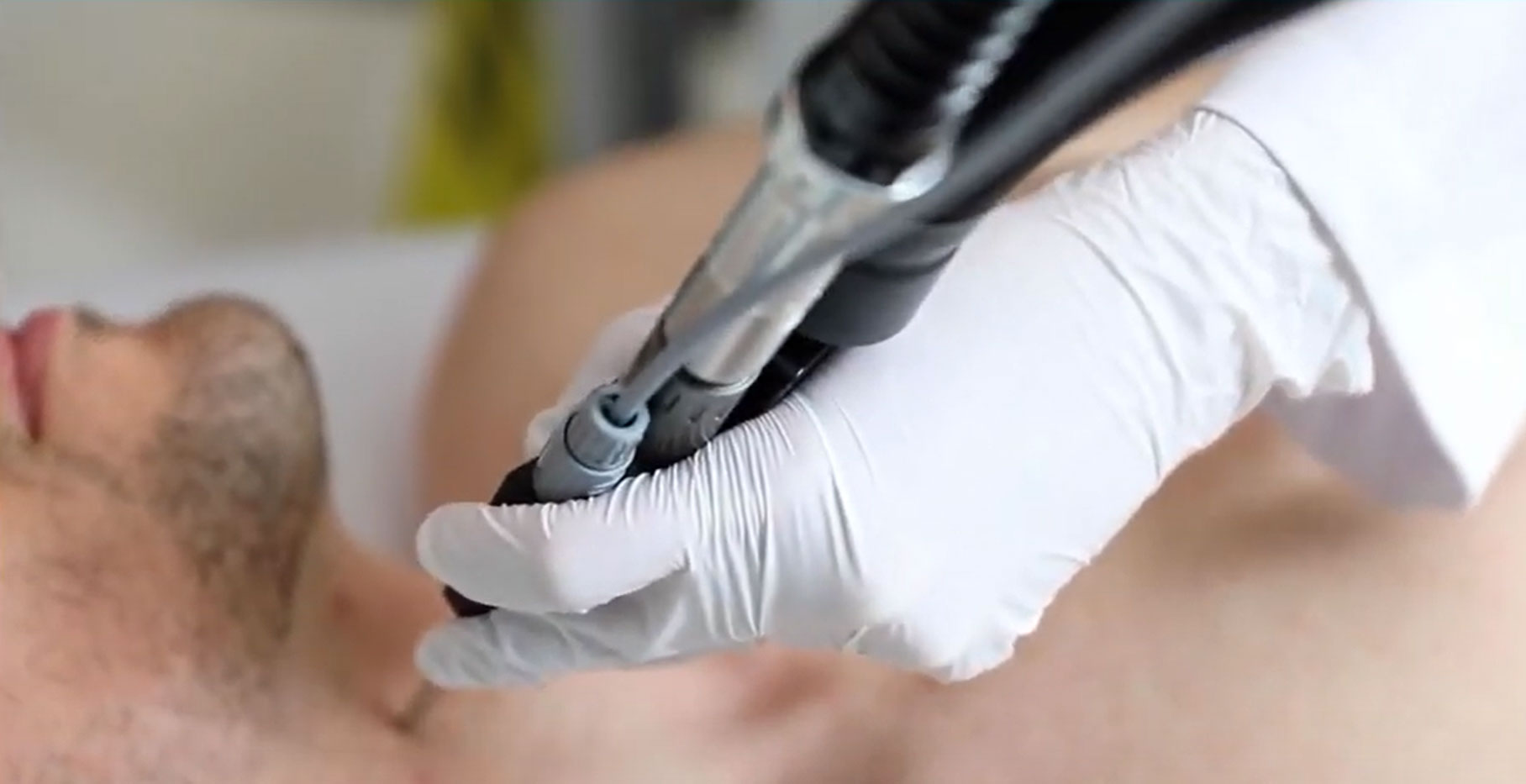 10|2023
Hey, guys! NP & clinic owner Britney Jackson here today to talk all things laser!
More than just hair removal, we'll discuss what all we can use the laser for and why right now is the best time to get started on your laser journey so let's get into it.
Elite IQ Laser by Cynosure
The laser that we offer is the Elite IQ by Cynosure, which has two different wavelengths.
Why is that important and why do you care? When we're talking about skin types, according to the Fitzpatrick scale, there are six different levels of skin types: Level I being the lightest and Level VI being the darkest. Lasers are attracted to the pigment or the melanocytes, either in the hair follicle or in the skin cell.
So patients who have Level IV, V, or even VI skin types, some lasers are just not safe to use on those patients because you run the risk of hypo- or hyper-pigmentation. The great thing about our laser system is that we can safely treat these levels for laser hair removal and not significantly increase that risk for hypo- and hyper- pigmentation.
Our device also has something built into it called Skintel which helps us to measure the level of pigment in your skin and know where you fall. This helps us to determine which settings are safest for you to use.
Laser Applications: Hair Removal
So what all can we do with the laser? First thing, of course: Laser hair removal!
Who wants to spend 80,00 minutes of their life shaving their legs? I don't! But that's the average time we spend doing just that! I have better things to do than shave my legs, which is why laser hair removal is a great option! Pretty much anywhere you have hair, we can use the laser to get rid of it. And at this point, I've probably treated just about every area on the body.
The only caveat to this treatment is if you have blond, gray or even light red hair, laser hair removal will not work. There is not enough pigment in those hair follicles to attract enough light from the laser in order to kill it. So sorry, you can't have laser hair removal if you have blond, gray or lighter red hair.🙁
Sun Spots
Second thing that we can treat are spots. Sun spots, liver spots, whatever you want to call them, we can get rid of those spots. The face, hands, and arms, are the most common areas. They get exposed to sun and that's where people typically will develop those brown spots.
Vein Reduction
The third thing that we can do is treat veins. So spider veins on your legs will tell. Occasionally you get across the cheeks or the bridge of your nose. We can treat those with the laser. Now the laser will not work if you have big, thick, ropey varicose veins– we would recommend seing a vein specialist for those.
Laser Facial
And the fourth thing that we can do is called a laser facial, which is good for a little, all-over resurfacing of fine lines and wrinkles, tone, texture, pigment– It just gives your skin a nice, lovely little glow. People love the laser facial!
How many treatments?
Typically we do 5 to 8 treatments, 4 to 10 weeks apart, depending on what part of the body that we are hitting. There's a certain part of the hair growth cycle called the anagen phase that we are trying to target with the laser. That's why it depends on where it's at on the body as to how rapid or slow the hair is growing so that we know when to appropriately treat it.
For Spot removal, 1 to 2 treatments done about every 4 to 6 weeks is all most people need to get rid of spots.
For Vein Reduction, we recommend treatments every 8 to 12 weeks.
When to start your treatments
So why is right now the time to get started on your laser journey? Well, again, we talked about pigment in the skin. Most people during the fall and winter months don't spend much time in the sun. So we don't run the risk of increasing that risk for hypo- and hyperpigmentation (for most treatments, you need to be out of the sun for 2 to 4 weeks before and after the treatment). So this works perfectly during the Fall/Winter months. If you start now, we'll be done by the time summer rolls around. So when you're ready to go to the beach or head out to the lake, you don't have to worry about it!
Get started today for 20% off treatment packages during the month of October!
Do you have questions? Are you ready to schedule your visit? Give us a call (270) 629-6722. You can find us on Facebook, TikTok and Instagram.
Ditch the razor, it' time to laser!
---
Watch today's video & subscribe to our monthly newsletter for news, special offers, events, and more!
Sign-up: http://eepurl.com/ilJzjw
• • •
Follow us on social media:
Instagram: @jacksonhealth_wellnessclinic
Facebook: fb.com/jacksonhealthandwellness
☎️ (270) 629-6722
📧 jacksonclinic@outlook.com
jacksonhealthandwellness.com
📍 102 Physicians Blvd, Ste B, Glasgow, KY
Categories:: Uncategorized